Humor has always been the best medicine, and there is no person who does not enjoy comedies to have a good time with friends or family. Whether black humor, simple or the most banal, we will always find a style that resonates with us and these films are the best of the genre.
Let's get started!
1. The Princess Bride (1987)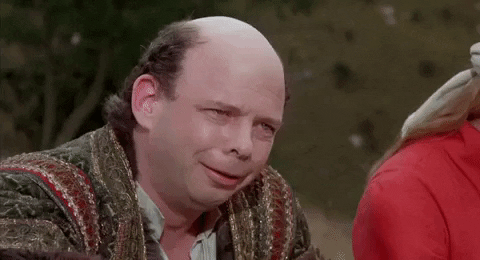 Starting this list otherwise would be … inconceivable. The Princess Bride is a must stop in the world of comedy, an unforgettable classic for many of us who were raised with fairy tales and fantastic stories. With the stellar performances by Robin Wright, Cary Elwes, Mandy Patinkin, Wallace Shawn and André the Giant, (not forgetting Billy Crystal and his brief cameo), The Princess Bride brought Iñigo Montoya to life, one of the most cited characters of the modern era, and that's why we owe him too much.
The tale of Princess Buttercup is told by a grandfather, who wants to tell his grandson a fantastic story. A story full of action, betrayal, drama and revenge, but that little by little turns into a story full of soul and heart with such endearing characters, that even the grandson does not mind hearing about kisses, and those horrible things.
2. Young Frankenstein (1974)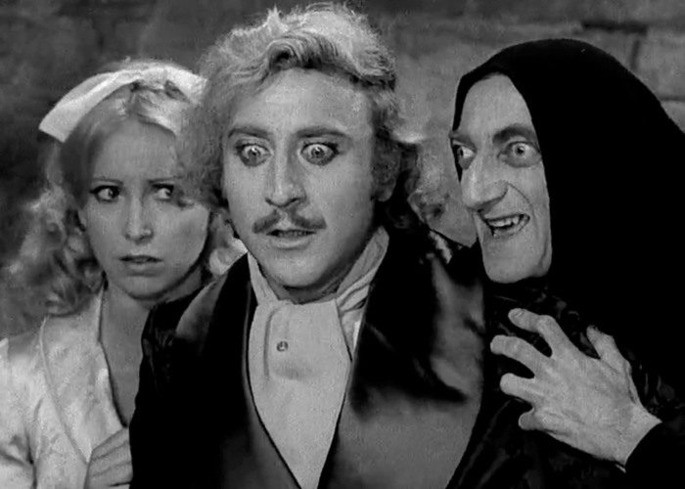 This endearing parody, starring Gene Wilder, is a satire to the movies of Ancient horror, especially the multiple adaptations that deal with the monster of Frankenstein.
Can you imagine being the grandson of a mad scientist and no one leaving you alone for it? That's the life of the respectable doctor Frederick Frankenstein, who wants nothing to do with his legacy or his history … until a colleague tells him that he inherited his grandfather's estate. There, he meets an attractive woman named Inga who claims to be his assistant, and after a short time, he decides to accept his inheritance and continue what his grandfather started.
3. The 40-Year-Old Virgin (2005)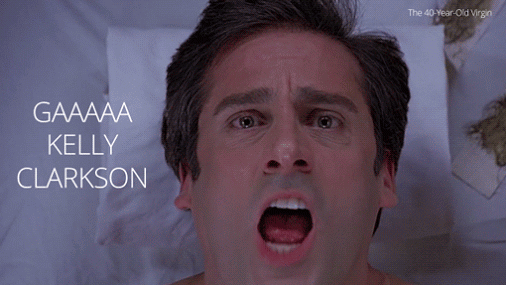 Steve Carrell is a legend of comedy by himself But director Jude Apatow's brand of humor has been indelible in modern comedy. Virgin at 40 , as he is known in Latin America, is a hilarious film that Steve Carrell devised for himself, based on a series of sketches that he played on a comedy show called Second City. Talking to Apatow and realizing that their idea of ​​humor was similar, they began writing the film together, joining a cast like Paul Rudd, Romany Malco, and Seth Rogen.
Without a doubt, a recipe for success. The 40-Year-Old Virgin tells the story of a charming man who suffers from serious shyness towards women, resulting in a bigger problem, still a virgin at 40. He has friends who support him and do everything in his power to help him find a serious partner, but bad luck seems to haunt him.
4. Kiss Kiss Bang Bang (2005)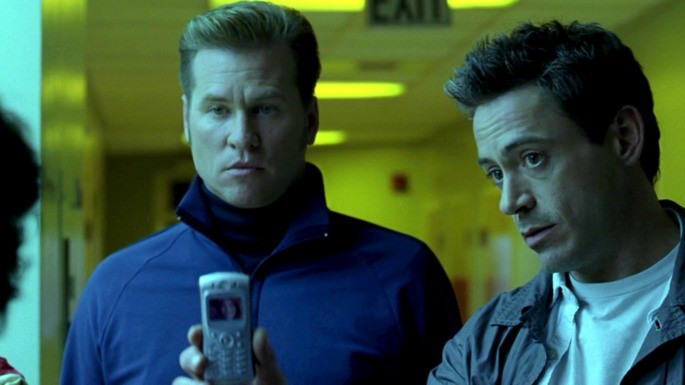 From the creators of Lethal Weapon, Joel Silver (producer) and Shane Black (writer) come up with an action comedy similar to old peer movies that don't exactly get along. A thief posing as an actor in distress and an actress in fact in distress, they find themselves caught up in a mysterious murder filled with twists, turns, betrayals and, above all, romance.
5. Monty Python and the Holy Grail (1975)
If we have talked about comedy classics, Monty Python and the Holy Grail is one of the first to come to mind. It is a parody of Medieval England and King Arthur's knights, but it really is a critique of modern stereotypes using elements from the Middle Ages as media.
This wild comedy chronicles the adventures of King Arthur and his Knights of the Round Table during the search for the Holy Grail.
6. Tenacious D in the Pick of Destiny (2006)
One of the few musicals on this list, Tenacious D in the Pick of Destiny, is one of the most interesting works by Jack Black and Kyle Gass. Both actors lend their talent as protagonists of the film as does the music, which is 100% original.
The film is based on Tenacious D, the band made up of the actors and musicians, who also star in the film. Throughout the film there are cameos from different actors and musicians such as Ben Stiller, Tim Robbins, Amy Adams, Ronnie James Dio, Meat Loaf, and Dave Grohl.
The musicians JB (Jack Black) and KG (Kyle Gass) begin a friendship that could lead to the formation of one of the best rock bands in the world. To make the dream come true, the duo begins the quest to find a legendary guitar that possesses supernatural powers.
7. Neighbors (2014)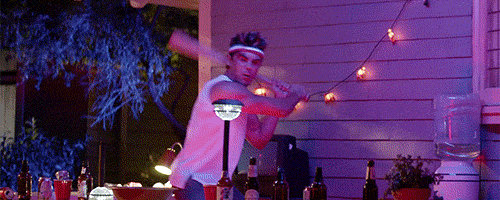 The director of black comedies, Nichollas Stoller joins forces with the well-known and veteran of comedies Seth Rogen and the current "crush" of millennials, Zach Efron
After being forced to move next to a university fraternity house, a couple who have just become parents do what is in their power to destroy the members of the same.
8. Airplane (1980)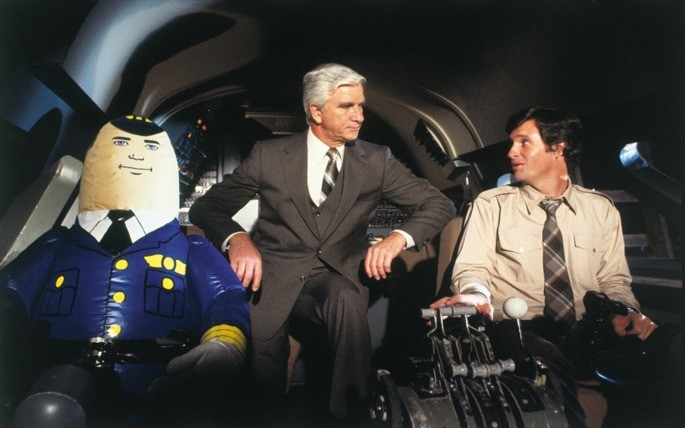 A man who is afraid of flying has to make sure that the plane is in the one found lands safely after the pilots get sick. But it all started when Ted Striker followed his girlfriend Elaine inside the plane, who works as a flight attendant …
9. Juno (2007)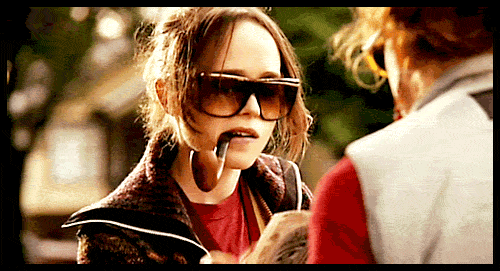 [ 19459003]
Juno is one of the films that catapulted Ellen Page and Michael Cera to fame, and is rated as one of the most heartwarming and entertaining family comedies of recent years. With a beautiful soundtrack, solid writing, and interesting decisions for the opening sequence of the film, it's hard to say that Juno will not remain in the collective memory.
Juno MacGuff (Ellen Page) becomes pregnant, and she decides to choose very carefully the family that will adopt her baby. However, as he develops a closer relationship with the mother and adoptive father of his future son, the father seems to take too much interest in Juno, putting his adoption and married life at risk.
10. American Pie (1999)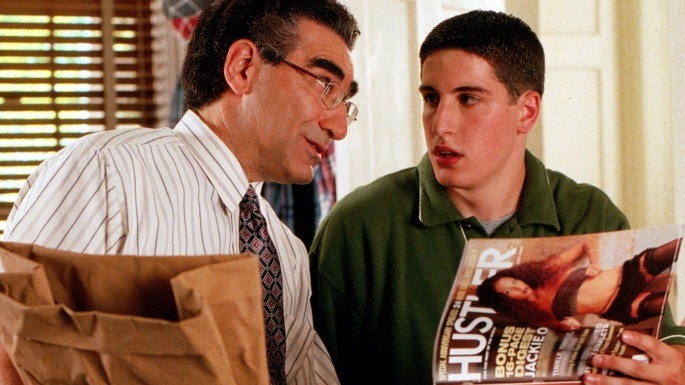 If there is a comedy that has defined the 90s, it's American Pie, being one of those movies with a lot of typical American humor. Highly risque with iconic scenes, American Pie taught a generation style of humor.
Jim, Finch, Oz, and Kevin are four friends who make a pact to lose their virginity before graduating from school. Now, the challenge will be to accomplish that before the prom.
11. Ghostbusters (1984)
After digging deep into paranormal subjects, scientists and researchers Peter Venkman, Raymond Stantz, and Egon Spengler are out of a job. To prove to everyone that they are wrong to underestimate them, they start a business of eliminating paranormal beings.
Ghostbusters is one of the classic family comedy movies that we can't pass up.
12. The Naked Gun (1988)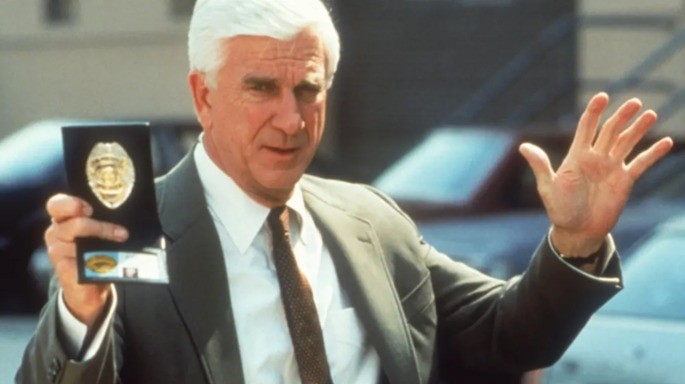 The Naked Gun: From the Files of Police Squad! is a comedy film starring Leslie Nielsen and released in 1988.
Based on a series created by David Zucker, Leslie Nielsen stars as Lt. Frank Debrin, who must protect the Queen of England in his trip to the United States.
13. Austin Powers (1997)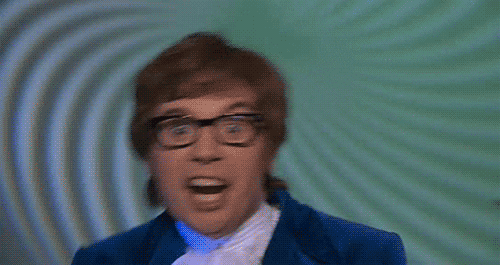 Easily one of the best works of Mike Myers in the absurd comedy with a "stale" humor and out of the ordinary, Austin Powers is another infallible movie if you want to laugh.
A direct parody of the James Bond saga, hyper-male detective 007, Austin Powers is his daring, funny, exaggerated, and schematic breaker version. The villains are ridiculous, the flirting phrases are very poorly rehearsed, the detective is not attractive at all but like this … well, he stays with the girl, inexplicably. The collective memory deserves to be remembered from here to always the stellar role of Mike Myers as the main protagonist and his villainous counterpart, Dr. Evil. Austin Powers is a film that cannot be out of this list, because it would be an insult to intelligence and culture, as well as a lack of respect for British humor.
14. Deadpool (2016)
Deadpool is easily one of Marvel's most ambitious projects. A hero who has a tragic story is nothing new, but add obscene language, high-pitched humor, and incredible ability for absurd comedy – and you've got Deadpool. Wade Wilson's sarcasm, self-deprecating humor, and charisma didn't stop him from transforming into a superhero, and that makes him special to many fans.
It should be noted that one of the best casting decisions in Marvel history was to give Ryan Reynolds a second chance to play Wilson, as the actor's humor and passion for the project make him the candidate. perfect for the role.
15. The Big Lebowski (1998)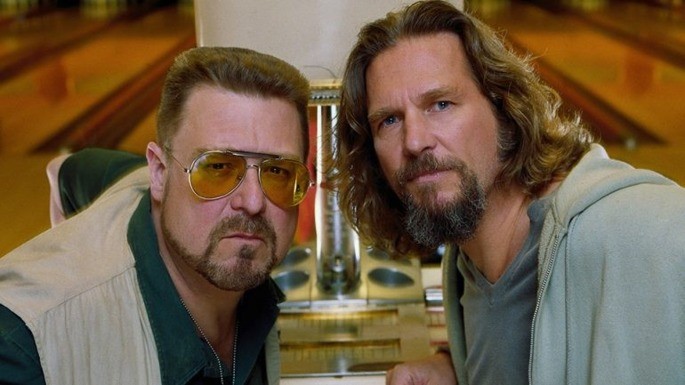 Written and directed by the Cohen brothers, Jeff "The Dude "Lebowski is mistaken for a millionaire of the same name, and after he suffers damage to his property, he calls his friends at the bowling alley to help him recover the lost money.
16. The Mask (1994)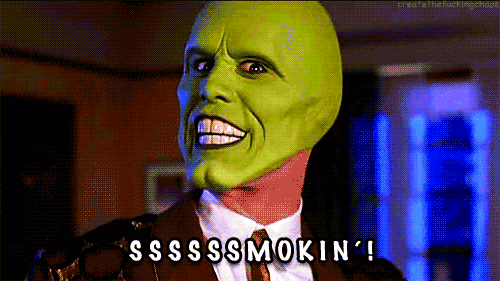 The Mask is undoubtedly the role that He catapulted actor Jim Carrey to stardom, (although it can be debated between him and Ace Ventura, but hey), becoming one of the most recognizable faces in absurd and visual comedy.
Jim Carrey plays Stanley Ipkiss, a kind but cowardly person when dealing with confrontations. Stanley fatefully encounters a mask that looks like an earthly representation of the god Loki, who is known for his malice. When you put it on, the mask transforms you into a totally different person.
17. Wayne's World (1992)
Another of Mike Myers' excellent works, this film was the product of his stay in the cast of Saturday Night Live and became a cult film of the genre. Also, as a curious fact, he brought Queen's Bohemian Rapsody back to the Billboard list due to * that * iconic scene.
Wayne and Garth dream of creating a television show together, and when they are hired by a television station, they discover that it is not as charming as they imagined.
18. Scary Movie (2000)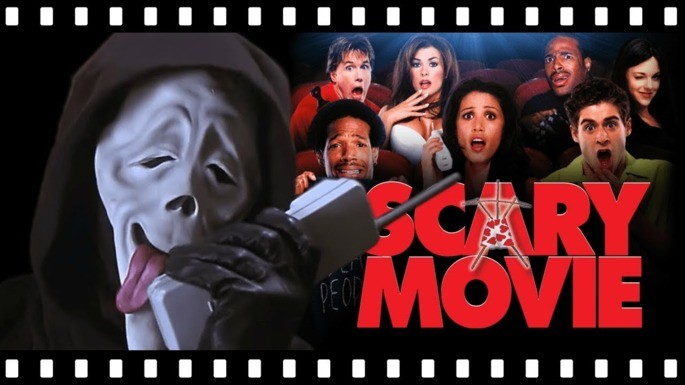 The saga of Scary Movie is a series of films American comedy specializing in "taunting" popular horror movies. It is one of the most prolific and successful comedy sagas in the genre, parodying everything popular during the time the film was released.
After a year ago, a group of students ran over a person and got rid of the body, they begin to fall like flies at the hand of a serial killer who seems not to be very agile.
19. In Bruges (2008)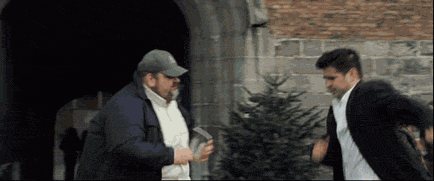 This film has a cast that does not usually do comedy, but for its interpretation , they end up delivering an epic performance.
After an operation failed, hitman Ray and his partner await instructions in Bruges, Belgium, a place that seems to be very unpleasant for Ray.
20. Home Alone (1990)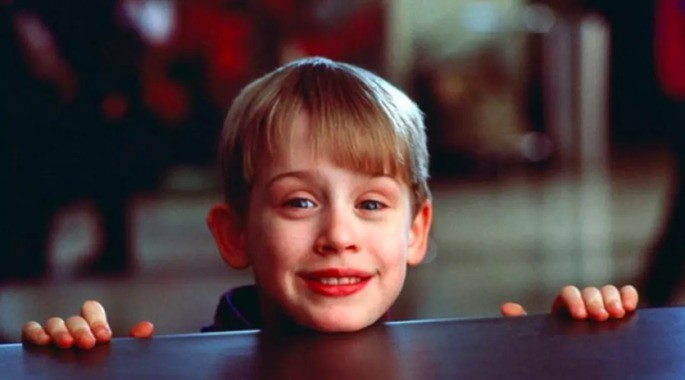 What to say about Home Alone that an entire generation don't know? Macaulay Culkin's career as Kevin McAllister began thanks to these films, and many of us cannot find a better excuse to see this feature beyond "it's Christmas and I deserve it."
A troubled eight-year-old boy must protect his home from a couple of thieves when his family accidentally leaves him alone after going on a Christmas trip.
21. The Grand Budapest Hotel (2014)
Wes Anderson is one of those promising directors that not everyone understands, but The Grand Budapest Hotel is one of the most entertaining films he has ever released (if you don't count Fantastic Mr Fox ). It has a simple but endearing humor, full of easy-to-love characters and a plot ridiculous enough to cause many, many laughs.
These are the adventures of Gustave H, a legendary doorman at the famous hotel in the fictional republic of Zubrowka, and Zero Moustafa, the bellboy who becomes his friend and confidant.
22. What We Do In the Shadows (2014)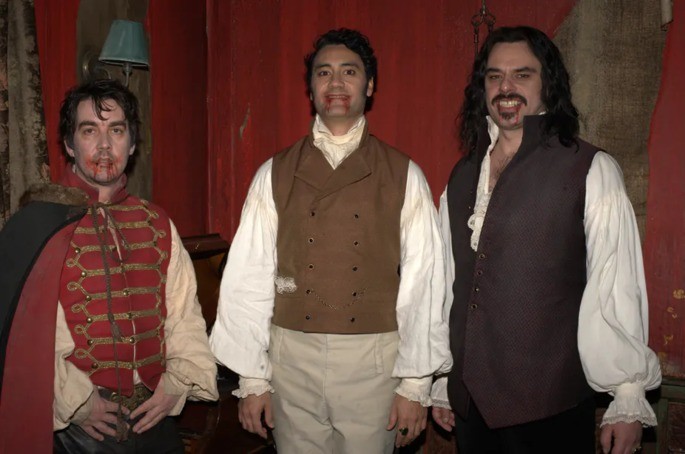 Many of us know Taika Waititi as the director of the third film from Thor , Thor: Ragnarok, but not everyone knows that apart from being a fantastic comedy writer, he also acts.
We take a look at the daily (or nocturnal) lives of three vampires, who have lived together for over a hundred years on Staten Island.
23. Groundhog Day (1993)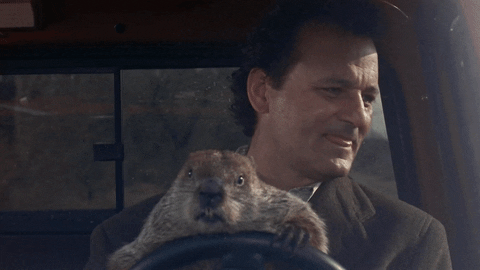 Another actor who stars in the comedy, Billy Crystal, stars in this feature film highly funny with hints of metaphysics.
A meteorologist is dispatched to cover the behavior of a groundhog that seems to predict the weather. Since he has been doing the same thing for four years, he continues to show his visible frustration, but when the coverage finally ends and he goes to sleep, he realizes that the day is repeating itself, over and over again.
24. The LEGO Movie (2014)
The only animated film on this list, humor in The LEGO Movie is for the whole family, and with it you will discover one of the most terribly catchy songs in the world.
The Lego Movie follows Emmet, an average citizen who loves to follow the rules. By mistake, they take him as an extraordinary person and his job is to save the world, but he doesn't feel prepared at all.
25. Anchorman: The Legend of Ron Burgundy (2004)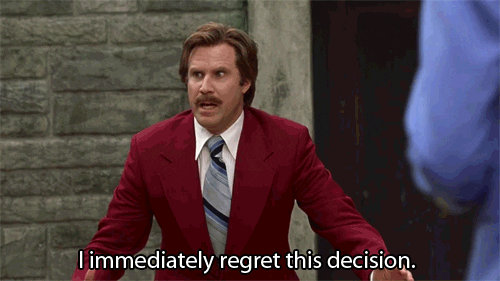 One of America's Comedy Cult Movies Ron Burgundy is as much (or even more) a part of American collective memory than American Pie.
Ron Burgundy is very comfortable in a male-dominated world on television, being the number one reporter and anchor for his television station in San Diego. His life is about to take a turn towards the uncertain when the television station hires a very determined woman to change the game as her partner.
26. Bridesmaids (2011)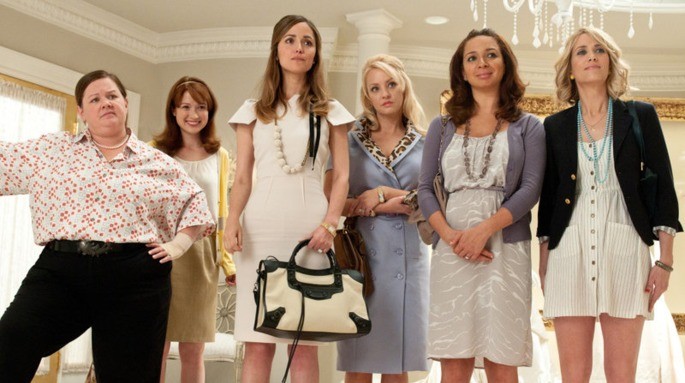 When we talk about unexpectedly dark, eschatological, and strong humor for a movie starring women, it is impossible not to think of Bridesmaids .
Lillian asks her best friend Annie to be the bridesmaid for her wedding. Annie, touched and a little jealous that her friend's love life has flourished to such extremes, decides to give herself completely to the role of planning the best events before the wedding, but another friend of Lillian, victim of jealousy and considering that Annie is inept, she takes it upon herself to steal her job.
27. Meet the Parents (2000)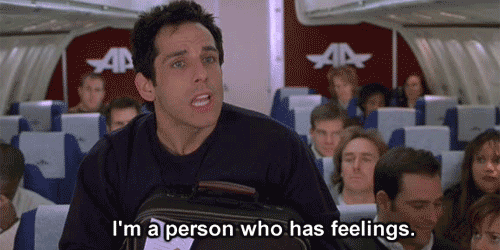 Greg Focker has just gotten involved with his girlfriend Pam, and he has to go through a time with their parents to get to know them. The bride's father is played by Robert de Niro, and he has CIA experience, so he suddenly decides that Greg is not his favorite person in the world. Once you start your relationship on the wrong foot, everything can go downhill.
28. Superbad (2007)
A Seth Rogen creation filled with dark humor, showcasing the abilities of debut actors Jonah Hill and Michael Cera, it is certainly a recipe for success.
Seth and Evan are two classmates who aim to throw the best end of the year party and invite the girls of their dreams to gain popularity with them. His cause is joined by McLovin, the most obvious and misfit nerd at school who just got a fake ID to allow them to buy alcohol.
29. Tropic Thunder (2008)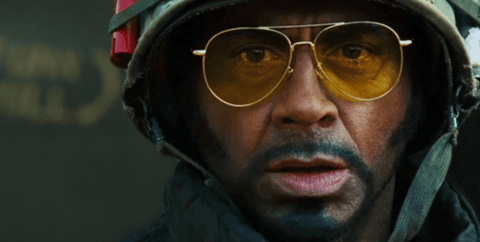 Ben Stiller directed this amazing satire on Hollywood's flamboyant life with faces highly recognized as Robert Downey Junior, Jack Black, among others.
After a series of strange events, a group of actors finds themselves lost in a jungle in North Asia filming a war feature film that soon becomes reality when they are attacked by a mysterious angry tribe.
30. Hot Fuzz (2007)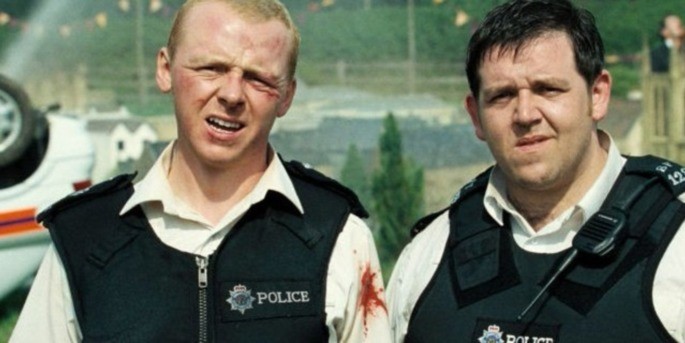 Which film in the trilogy to include was debated, but [19459010 ] Hot Fuzz won. Basically the Simon Pegg + David Frost and Edgar Wright combination is a winner, no matter what happens.
When he is transferred from London to a small town, Nicholas Angel sees his skills wasted. However, Sanford, Gliucestershire is not as quiet a town as it seems.